The Exorcism of Anneliese Michel
Anneliese Michel was born 21 September 1952 in the community of Leiblfing in West Germany. She lived with her three sisters and her parents Josef and Anna. The family were devout Roman Catholics who attended Mass twice a week. As a child her mother Anna, encouraged Anneliese and her sisters to atone for the sins of others.
Anneliese led a normal life until the age of 16 when she suffered a severe epileptic fit. She was sent to the Psychiatric Clinic Wurzburg where she was diagnosed with Grand Mal epilepsy. Soon after, Anneliese started experiencing hallucinations while praying. She also began to hear voices, which told her that she was damned. Over the months that followed her mental state and unstable behavior deteriorated. She began to eat flies, spiders and coal; she even bit off the head of a dead bird. In one instance, she crawled under a table and barked like a dog for two days. She could often be heard screaming through the walls for hours. Tearing off her clothes and urinating on the floor became a regular occurrence.

In 1975, convinced that she was possessed, her parents gave up on the doctors from the psychiatric clinic. They chose to rely solely on the church for healing. An exorcist from a nearby town examined Anneliese and concluded that she was indeed demonically possessed. After two failed requests, the rite of exorcism was finally granted.
Father Arnold Renz and Pastor Ernst Alt were assigned to carry out "The Great Exorcism" on Anneliese Michel. The foundation for this ritual was the "Rituale Romanum", which at the time, was still a valid 17th century Cannon Law. Together, the men carried out 67 rites of exorcism over a 10 month period, with one or two exorcism sessions held each week. Some sessions lasted up to four hours. Over time, the ligaments in her knees ruptured due to the 600 genuflections (the act of reverence consisting of falling onto one or both knees) that she performed obsessively during each exorcism session. On June 30, 1976, during what would be her last rite of exorcism before her death, too weak and emaciated to perform the genuflections on her own, Anneliese's parents stood and helped carry her through the motions. She along with Father Arnold Renz and Pastor Ernst Alt were convinced that she had been possessed by several demons, including Lucifer, Judas Iscariot, Nero, Cain, Hitler, and Fleischmann, a disgraced Frankish Priest from the 16th century. These demons frequently spoke through her, conversing regularly with the priests.

Around Easter, Anneliese's convulsions returned with a greater ferocity, but still no doctor or medical professional was called. She began to refuse food and drink, forcing herself to fast believing that it would rid her of Satan's influence. On July 1, 1976 Anneliese died of dehydration and malnourishment. She weighed only 68 lbs. She was buried at the outer edges of a cemetery near to her home. Her resting place is normally an area reserved for illegitimate children and suicides.After an official investigation into her death, Father Arnold Renz and Pastor Ernst Alt alongside Anneliese's parents, Josef and Anna, were charged with her murder. The court case which took place two years after her death in 1978 become a world-wide sensation. All four defendants were found guilty of negligent homicide and sentenced to six months in prison, suspended with three years' probation.
Over 30 years later Anneliese is revered by small groups of Catholics who honour her as an unofficial saint. Religious tourists from around the world regularly visit her grave, leaving handwritten notes of thanks and gratitude as they sing and pray for the young woman they believe sacrificed her own life to atone for the sins of others.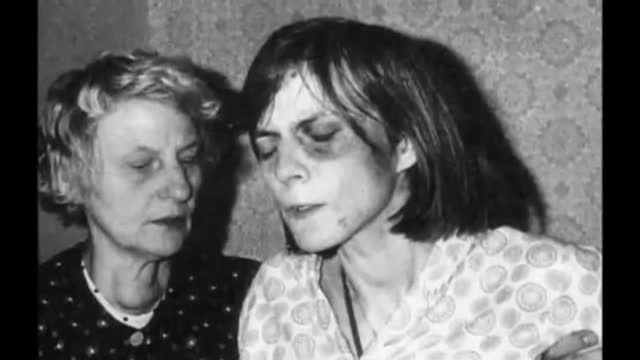 Audio recordings of the "demons" speaking through Anneliese. VOLUME WARNING: there are audio spikes, so you might want to turn down your speakers.
So is any of this true? Would six demons take possesion of a young girl? The more likely story is that Anneliese suffered from epilepsy and had several attacks. But instead of getting her the proper medical care her parents believed an exorcism would be the proper code of conduct.

The Walker County Texas Jane Doe and "Kathy"
In 2015, a photo of a 14 year old girl was submitted to investigators. A brother and sister said they met her in Corpus Cristi. She was apparently a runaway, living with a couple there, but ultimately was seeking out Surgaland Prison to meet a friend. They recall her name as "Kathy" or "Katherine." She may be a Jane Doe that was found in Walker County, Texas…
30 years ago, a trucker passing through Walker County, came across the pale remains of an unidentified woman, lying face down amid the frigid roadside. He reported the discovery to police at 9:20 AM the morning of November 1st, 1980. Her bruised and battered body had been stripped of clothes, and a ligature around the neck implies she was strangled to death. For 6 hours the corpse of the Jane Doe laid on the roadside, unbeknownst to motorist. She was apparently murdered at around 3:00 AM that morning. She suffered a severe beating, with bruises, gashes, and even a bite mark discovered among her body and face, but the cause of her death was by ligature-strangulation.
A pair of panty hose was wrapped around her neck and mercilessly pulled tight until death occurred. Pieces of the panty hose and her underwear was found stuffed in her body in an apparent attempt to keep it from bleeding. The coroner's report described specific wounds to her lower body cavities that imply she'd also been sexually assaulted with a large, blunt object.
Due to a lack of biological evidence, it's unknown if she actually endured rape. Witnesses said she was trying to navigate her way to the Ellis Prison Farm. Because of the nature of her murder, some speculate she may have been killed by another female. She may have been romantically involved with someone at the prison, but then another love interest may have found out and an altercation ensued. The nature of her death could suggest that another female killed her and that she tried to disguise the murder as a rape perpetrated by a male assailant.
To this day, the origins and identifies of both Walker County Texas Jane Doe and "Kathy" from the photo remain unknown.
You can read more about it here: en.wikipedia.org/wiki/Walker_County_Jane_Doe

Payback of an ex-boyfriend
Three years ago a woman contacted Redding, California Police Department, telling them she was a victim of domestic violence and stalking by her 34-year-old ex-boyfriend Ryan Eddy Watenpaugh. She said she had been physically assaulted numerous times during their relationship which lasted several months. The woman said she suffered bruises and minor abrasions from the assaults and was held against her will on two occasions while trying to escape.
According to police, Watenpaugh attacked the woman on August 4, 2014, and she ran out the back door of her Redding apartment. When she returned, Watenpaugh was gone and so was her Pomeranian dog named Bear.
The couple reconciled briefly in early September, and Watenpaugh cooked the woman a meal. On Sept. 7, the woman received a text from Watenpaugh asking her how her dog tasted and referenced the meal he cooked for her.

Watenpaugh continued to send the victim menacing text messages, stating various things he planned on doing with the remains of her dog, which included returning its paws to her.
On Tuesday, around 1 a.m., the woman heard a truck pull up to her residence. When she looked outside, she saw Watenpaugh walk up to her home, place something near her door and walk away. When she opened her front door to investigate, the woman found a small bag containing dog paws, which she identified as belonging to Bear.
Watenpauh was arrested by Shasta County Sheriff's Department and told investigators he sent the messages and placed the dog paws on her porch, but denied killing or cooking her dog.
During a subsequent search of Watenpaugh's home, investigators and deputies reported finding a Romanian variant AK-47 assault rifle and multiple high-capacity magazines.
Watenpaugh was arrested on charges of domestic violence, false imprisonment, stalking and animal cruelty. Additional charges will be sought regarding the weapons violations. He is being held in lieu of $250,000 bail.

Nuclear Shadow
On August 6, 1945, the United States dropped an atomic bomb on Japan; three days later, a second nuke followed. The death toll and destruction from these attacks were both immense. But the bombs, while in some cases, vaporized people in a matter of moments, the weapons also created a permanent memory of some of those killed. These creations, like the one seen below, are often called "nuclear shadows" and exist to this day.
The explosion of a nuclear bomb reacts similar to the sun. The sun emits ultraviolet (UV) rays which, via a pair of processes causes tanning, but, depending on your skin type, may also lead to sunburns. Most people can avoid sunburns by applying sunblock which, as the name suggests, blocks many UV rays. But leave part of your body untouched by the sunblock and the UV rays get through, causing burns.
A nuclear bomb explosion works in a similar way. The explosion acts as the sun does in the example above, except that instead of emitting UV rays it emits thermal radiation. The radiation will bleach anything it ends up hitting, much like the UV rays cause sunburns. But anything that gets in the way — including a soon-to-be-vaporized body — will soak up those rays, effectively shielding whatever is behind it from the bleaching effect. In a real sense, the dead acted as a form of nuclear sunblock. The result is the "shadow" imprinted on the ground as pictured above, which are still visible today.

Holmes' murder castle (thanks jahmannington for the suggestion!)
Henry Howard Holmes (HH Holmes) was one of the first documented American serial killers. In Chicago at the time of the 1893 World's Fair, Holmes opened a hotel which he had designed and built for himself specifically with murder in mind, and which was the location of many of his murders. While he confessed to 27 murders, of which four were confirmed, his actual body count could be as high as 200. He took an unknown number of his victims from the 1893 Chicago World's Fair, which was less than two miles away, to his "World's Fair" hotel.

The ground floor of the Castle contained Holmes' own relocated drugstore and various shops, while the upper two floors contained his personal office and a maze of over 100 windowless rooms with doorways opening to brick walls, oddly-angled hallways, stairways to nowhere, doors openable only from the outside, and a host of other strange and labyrinthine constructions. Holmes repeatedly changed builders during the construction of the Castle, so only he fully understood the design of the house.

He tortured and killed his victims. Some were locked in soundproof bedrooms fitted with gas lines that let him asphyxiate them at any time. Other victims were locked in a huge soundproof bank vault near his office, where they were left to suffocate. The victims' bodies were dropped by secret chute to the basement, where some were meticulously dissected, stripped of flesh, crafted into skeleton models, and then sold to medical schools. Holmes also cremated some of the bodies or placed them in lime pits for destruction. Holmes had two giant furnaces as well as pits of acid, bottles of various poisons, and even a stretching rack.

Just a flesh wound (this marks the 150th story in the series!)
In 2009, Julia Popova, aged 22, was stabbed by a mugger as she walked home from work one day last autumn – but she was so traumatised by the attack that she walked home without realising the knife was embedded in her, just a fraction of an inch from her spinal cord.
According to the chief surgeon who operated on Julia, the case was last autumn. She spent about 40 minutes walking home after she was attacked. Despite the length of the blade, it missed her spinal cord and major arteries in her neck. Instead the knife was stuck in her bone. Julia only realised something was wrong when she arrived home and her parents saw what had happened. An ambulance was at the house within 15 minutes – meaning the woman spent over an hour with the blade in her back before she was seen by doctors.
It was on her arrival at the hospital that the image was taken. The surgeon confirmed the picture had been taken by medics.
The doctors operated immediately to remove the knife. It is believed that Julia spent ten days in the hospital after the operation. According to the surgeon Julia had a straightforward recovery, suffering no long-term effects from the horrific attack.

The drowning of Tina Watson
In this photo a man took of his wife diving, you can see another diver on the sea floor. That's Tina Watson. A few minutes before this photo was taken, Tina's husband, Gabe, turned off her air supply and held her underwater until she could no longer breathe. He then went up to the surface and told the other divers she was "in trouble", and you can see someone else swimming to try and save her.
Gabe was prosecuted. Even though murder couldn't be proven, he did serve 12 months in prison in Australia for manslaughter, as a plea bargain. (The court didn't find enough evidence to prove Gabe had premeditation to take his wife's live). When he returned home to Alabama, the US courts tried to get him on the grounds that he'd planned the murder there, but he got off due to lack of evidence. Australian authorities refused to help with the American trial, as they'd broken an extradition clause not to push for the death penalty.

Down the hill, down the hill
The photograph above is the last picture taken of thirteen-year-old Abby Williams. She was hiking in Delphi, Indiana last month in February 2017 with her friend Libby German, who took the picture. Shortly afterwards the pictures were uploaded to Snapchat. Later that day the bodies of both Abby and Libby were found in a creek half a mile from the wooden bridge depicted in the picture above.

Shortly after taking a picture of her friend Abby, Libby took a picture of a man in jeans who she felt was following them. The only reason we know someone was in the area and possibly following the pair is because Libby's phone was found at the crime scene.
As it turned out Libby was a smart girl. She figured the mysterious figure was trouble and after snapping a picture of him she turned on her phone's microphone. On her phone a recording was found of a man's voice, saying and repeating ''Down the hill'' while the rustling of grass and/or leaves can be heard in the background. These three words would implicate the girls were guided (by force) by a man to the place where their bodies would later be found
Cops are not saying they think the man in the picture is definitely the one recorded talking but add that more than one killer may be involved. However as of now the man being the killer is the most likely scenario and he remains the prime suspect.
The murders only happened one month ago and as of now they still haven't identified the killer. There is a $200k reward for the murderer now if anyone can identify him.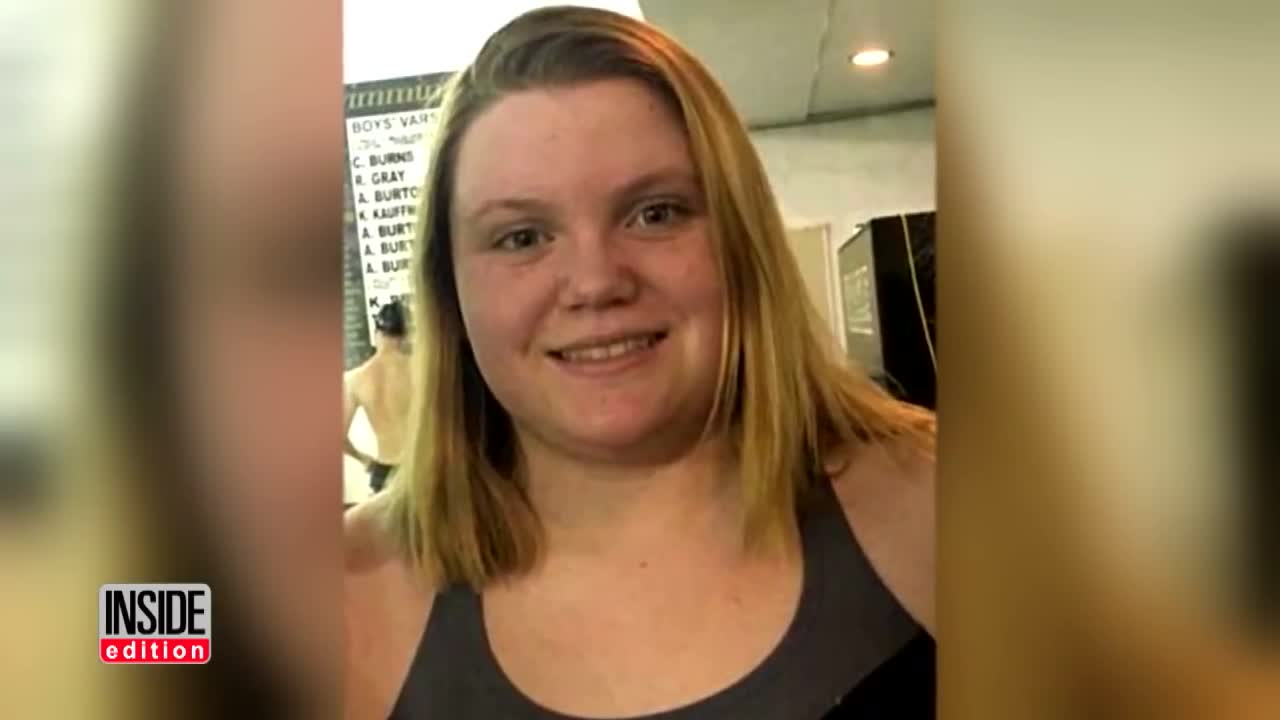 A video which summarizes the event surrounding Abby and Libby pretty well. The audio recording can also be heard there.